I found this Flat-head Leafhopper Nymph belonging to Ledrinae Subfamily of diverse leafhopper family Cicadellidae in my garden. While photographing it jumped on to my trousers. I was not sure which was its host plant. The leafhopper also looked pretty transparent and was having a very good camouflage. To highlight that transparency, I decided to shoot it under back light using "Meet Your Neighbours" style capture. For those who don't understand the look, it originated by the idea in this late 20th century giant of portraiture, Richard Avedon.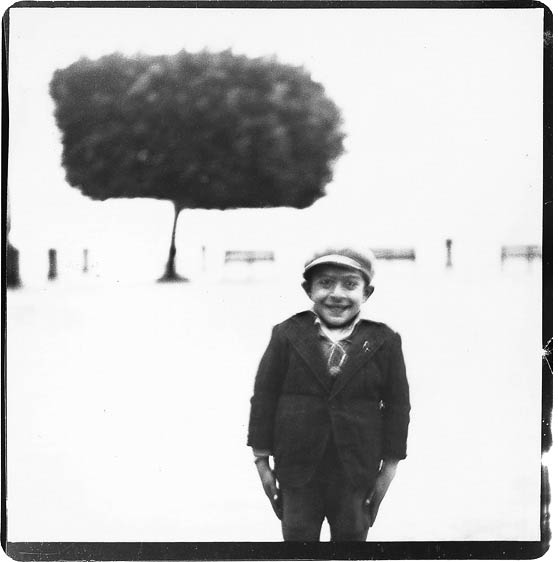 This boy and olive tree against a white sky was pivotal in the development of MYN's characteristic out-to-white style. Basic idea of MYN is as follows –
All the images are shot in the field, on location and no subject is collected to photograph indoors – unless it's there in the first place!
The background of each image must be uniformly 255 in each channel and backlit. This gives the characteristic brilliance and translucence seen in MYN photos and facilitates design and compositing. Photoshop cut outs can't match this look, especially in respect of how out of focus edges are rendered.
Front lighting must be diffused and near shadowless to render maximum detail.
Any subjects that require to be handled must be returned as soon as possible to the spot from which they were collected. Photographers are expect to observe the normal ethical standards of their discipline.
Here I used a Thermocol container which is a cube with a lid on one side. Vaccines which needs to be transported under cold chain (maintaining low temperature) are packed and sent in these boxes. After removing the lid, I replaced it with a white plexiglass. Bare Yongnuo 560 EX III flash configured to work as a slave and was kept inside the container facing the light upwards so as to illuminate the plexiglass from the back.I placed the Leafhopper on the plexiglass and used Canon EOS 5DS R with both Canon EF 100mm f/2.8L Macro IS USM & Canon MP-E 65mm f/2.8 1-5x Macro with a Godox Ving V860c E-TTL Li-ion Flash fitted with LumiQuest SoftBox III on the camera for foreground illumination. The image below is the one without back lighting.
To get perfect white background we need to switch on Highlight/over-exposure warning (blinkies). This mode shows brightest areas of the image which are so overexposed that they are completely white. Make sure the background with that backlight corresponds to that 255 white. Adjusting the backlight flash as well as the camera exposure settings can ballpark you a good setting. The exposure should be such that background will be blinking the warning and the foreground is well lit uniformly and diffusely with no shadow. Since it was my first try, to get these sort of MYN look, I did make many under and over exposed capture mistakes. Learning form those mistakes was great fun. The leafhopper was not harmed and was left back into garden, probably on an unknown host plant 😉
Here I wanted to capture this ultra flat critter from oblique plane. Since the DOF was not able to cover the whole body in oblique plane, I took 4 captures which were later stitched together with Zerene stacker to produce the image above.
Ledrinae represent a relatively small subfamily within the very large and diverse leafhopper family Cicadellidae. The subfamily includes five tribes with a total of 38 genera and approximately 300 species. Ledrines occur on every continent except Antarctica, with the largest radiations occurring in Australia, Africa, and most extensively, Southeast Asia. Taxonomically speaking, Ledrinae are an old group, with the first named species, Cicada aurita, described by Linnaeus in Systema Naturae (1758). Fairmaire (1855) later treated the group as a family, calling it Ledrides.
Ledrinae have been portrayed as living chiefly on trees and shrubs, with the grass-feeding Xerophloeini being exceptional and none appear to be major vectors of plant diseases. Interest in ledrines has often centered on their unique morphology and its possible implications for the evolutionary history of leafhoppers. In general, ledrines have been characterized as large (the world's largest leafhopper, Ledromorpha planirostris Donovan from Australia, has been placed in the Ledrinae), green or brown, having flattened crowns and tibiae, reduced leg macrosetae, and a metathoracic femur macrosetal formula of 2+1.
Other characteristics commonly associated with ledrines include the ocelli being located on or near the crown, the forewing venation being highly reticulate, and, like the only ledrine found in Europe, Ledra aurita Linnaeus, having large conspicuous projections off the pronotum. Presence of such projections has resulted in a number of treehoppers (Membracidae) being misplaced into Ledrinae, and vice versa.
For more details check – Jones, J. R.; Deitz, L. L. (2009). Phylogeny and systematics of the leafhopper subfamily Ledrinae (Hemiptera: Cicadellidae). Zootaxa. 2186: 1–120.