Last week I visited Miyar Kambala near Karkala. You can read more about this Kambala in my earlier blog on Miyar Kambala held in 2015. This year I had an opportunity to visit it again. As a bonus to all my photography friends at the Kambala venue, I did a short session on "How to Shoot Kambala". It was an hour of briefing on how and what of Kambala Photography. Then all of us started taking photos of the Kambala until 6 PM.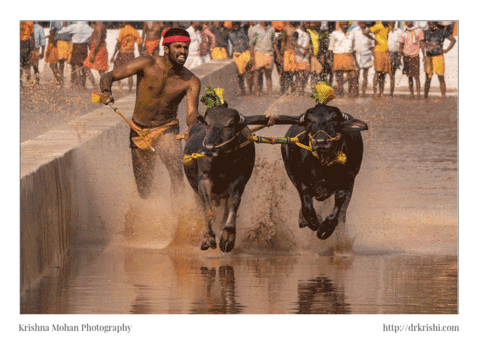 That day I used my newly acquired Olympus OMD EM1 Mark II Camera for Kambala. I won't be covering whole Kambala on this blog, but a very small incidence that happened. One of the runners who was running with the junior negilu race with buffaloes slipped and fell. The gif you see above is the sequence of 21 shots all taken in full size raw of 20mp at 10 frames per second mechanical shutter mode with autofocus. The camera managed to capture all the frames in crisp focus and was able to follow focus as the Buffaloes came closer to me.
Frames below show the expression of the runner as the Buffaloes reached the finishing line by themselves. In fact, for the sake of space, I skipped 64 frames in between the fall till the end as I clicked all of them continuously. Since I was using 128GB UHS-II card there was no problem of buffer filling and I got continuous burst capture as I wanted.
Olympus OMD EM1 Mark II is a remarkable camera. Olympus has outdone itself with the E-M1 Mark II. Its blazing dual quad-core processors allow for 60 fps burst shooting (18 fps w/continuous autofocus) and ridiculously fast image playback. Combine that with one of the most advanced autofocus systems I've seen and 5-axis in-body image stabilization makes the Mark II is a force to be reckoned with.
I was using Olympus OMD EM1 Mark II with Olympus M.Zuiko Digital ED 12-100mm f/4 IS PRO Lens. I was shooting that day at 1/1600 sec at ISO Auto & aperture atf/4.5 on that lens. This lens and body combo are exceptional. The body along with this lens gives 6.5 stops of image stabilization which is best in the world. The in-body stabilization itself gives 5.5 stops, and the Sync IS gives 6.5 stops with OIS lenses. 6.5 stops is actually a theoretical limitation at the moment due to rotation of the earth interfering with gyro sensors. So… until gyroscope sensors can begin to compensate for the rotation of the Earth, it seems you won't be able to do any better.
I will be doing the full review of this camera soon. I have few hundreds more interesting capture of this Kambala which also deserves another blog soon ;).